APPLES, COWS AND A LOOK TOWARDS THE FUTURE
March 28, 2022 at 1:46 pm
Just back from a very inspiring trip to Normandy in France, my thoughts drift naturally towards a comparison with our own local cider industry in the Baltics. Our cider culture here is still a youngster, hardly over 20 years versus centuries of know-how in France, England or Spain. Yet, some facts hit my mind with undeliable clarity.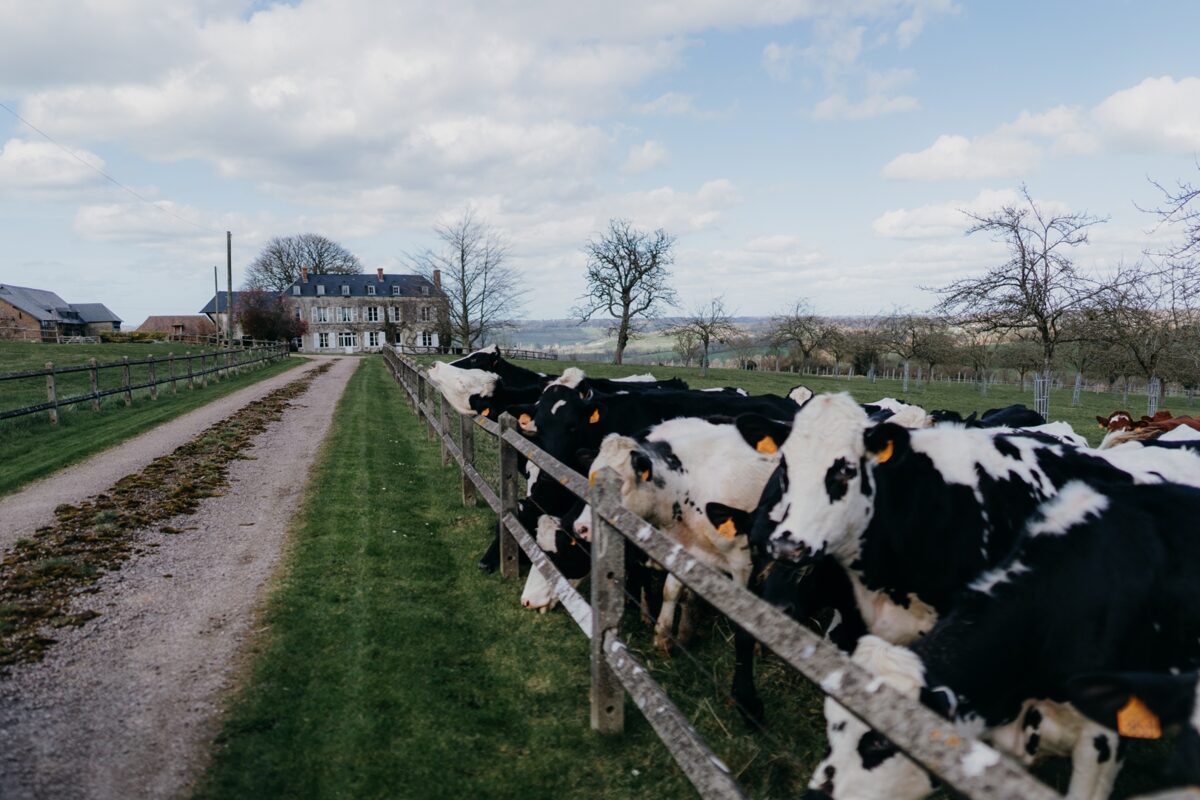 1. The Fruit
Just like in Normandy, apple is the most produced fruit in the Baltics, let's make value out of it!
One of the most striking successes is Jaanihanso cider mill in Pärnu region, Estonia. Despite the difficulty for the foreigners to pronounce the name, and to spot the country on a map, today this producer is known not only by local gourmets but also abroad, 50% of the production is actually exported to over 10 countries. Jaanihanso sources apples only locally, from their own orchard and also from neighbours within a 20km radius around their own property. Alvar, the owner of the cidery, advocates local varieties, part of his production is actually made of the local Antonovka, heritage from the Soviet orchards. Who would have ever thought some 35 years ago that these acidic apples would serve so well the traditional Champagne method, used by this farm.
"The Real cider apples", according to Alvar, is a discussion usually led by people who don't really try to make living out of cidermaking in the region. For him, snobbing local varieties, more adapted to the local climate and expressing a different style, versus traditional cider apples from the West, is like saying "Bordeaux is the only wine" to a wine drinker, while the last thing that the world probably needs is another wine from Bordeaux. He rather strives for making something unique out of what is grown locally. According to Alvar, everybody in the area already made apple wine and cider several decades ago for their own consumption. Encouraged by the craft beer trend, he decided to make it a serious business, starting with 2000L in 2013 and reaching 70 000 L today. For him the traditional Champagne method has been the key selling point, something different nobody in the whole cider world produced in such quantities at that time.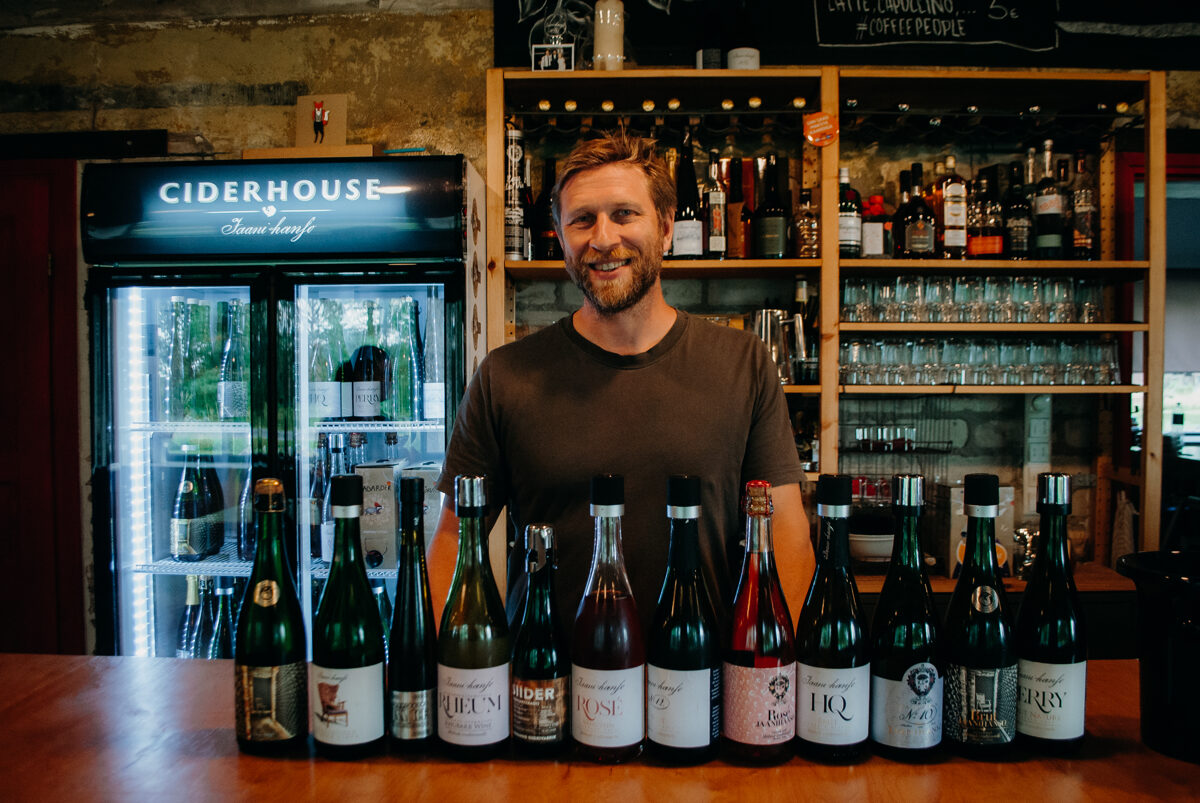 Alvar Roosimaa, owner and cidermaker at Jaanihanso cider house
Actually you can make cider out of any apples, just like you can make wine from any grapes, they just provide different characteristics, or are more or less interesting. Using locally grown apples definately expresses the authentic style and tipicity of our terroirs, gives a sense of place.
When we pay a visit to Eric Bordelet, the very talanted cider maker from Maine in the North-West France, and former sommelier at l'Arpège in Paris (3*Michelin), welcomed by 3 barking dogs, we can immediately feel that random visitors are not frequent here. No wonder, we are more than 2 hours away from the touristic parts of Normandy, Charchigné in Maine is on the border with Normandy, inbeteen Paris and Brittany, literrally in the middle of nowhere. Underneeth our feet lies the Armorican massif with very old soils of iron-rich schists and granit where Eric cultivates over 30 varieties of cider apples and 20 varieties of pears. The respect of the fruit and terroir are key words here. Then what counts is patience, observation, numerous trials (since 1992), constantly adapting to suit the fruit characteristics and obtain the best result.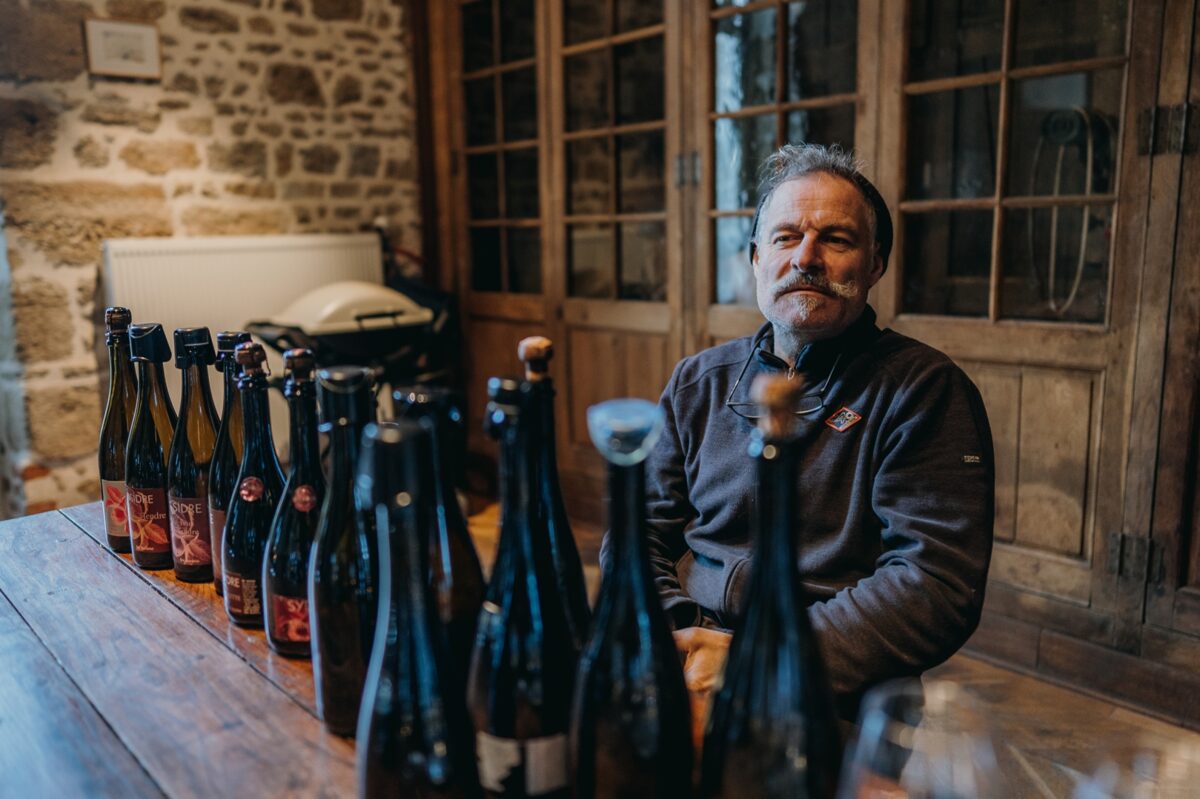 Tasting with Eric Bordelet
The precision is at its extreme from the choice of apples to reach the ultimate balance in the blend, choice of the press and filtration equipment, temperature control, and ultimately the choice of glasses for each of his ciders and perries to express itself at the best. No superficials like barrel ageing, no Champagne method or added/mixed fruit here, and the result of his gastronomic cuvées with greatly mastered acidities and aromatic cleanness, and especially the old-vintages are mind-blowing!
Another tribute Eric pays to his region is bringing the traditional fruit of cormier (Sorbus Domestica) on the stage again. Completely unknown today to most of the French wine or cider drinkers, cormé is a family made drink from the region of Maine dating back to the 15th century. It is the only wild tree that produces consumable fruits in large quantities but giving very little juice due to the hard little fruit (approximately 15% of juice).
2. The landscape
Look around! Lush green grass and rolling hills along with fields and woodlands, even batches of birch, doesn't it seem familiar to what we observe in our own beloved lands around the Baltic sea? This beautiful rural lanscape stretches till horizon, and cows stroll peacefully through the old orchards.
A French name pré-verger means combining a meadow with an orchard. This buccolic postcard is actually an ancient way of running an orchard: on the one hand the animals control the grass and eat the damaged fruit. On the other, the trees make sheadow for the animals. Very simple and natural! This way producers don't have to use chemical treatments such as generally used in the intensive low-tree orchards, where the densities of plantation are much higher and obviously there is no space for animals. The yields may be lower at the beginning in the traditional orchard, but with years it shows benefits and clearly allows organic culture.
This is also the way our local producers can run the traditional, so-called high-stem orchards. Many of such can be found all around the Baltic states dating from the Soviet era. For example, Ezera sidrs from Latvia, Kurzeme region, is made with apples coming from hundred-year-old trees on the family property in a pittoresque area near Zvirgzdu lake. Many of the trees in this orchard have died over decades without any care, but for the remaining ones the branches are generously loaded with fruit. Nowadays 40 sheep graze on grass during summer to keep clean the 2,5 hectars where the old orchard still stands in the middle of forests and kilometers of abandonned rural areas.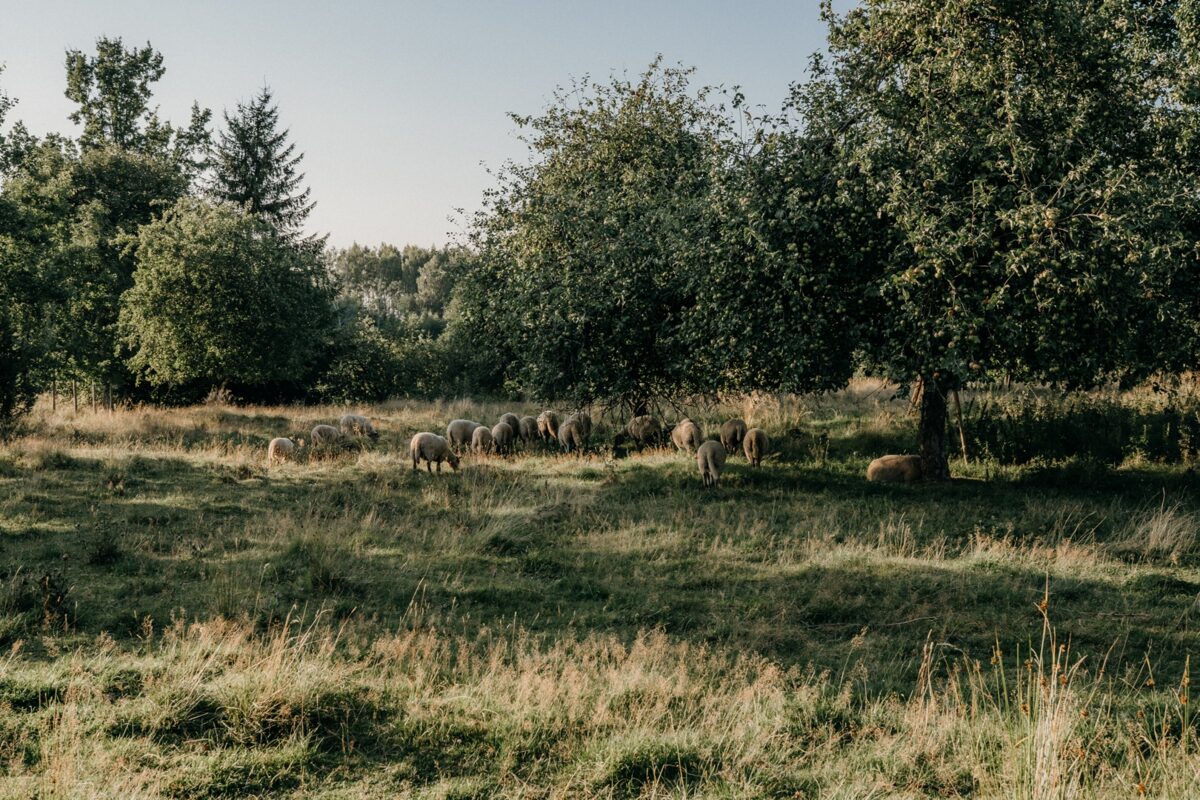 When looking in the maps, the proximity of the sea is also a significant aspect in several historical cider making areas. It is not only a big advantage for the holiday season but plays its role in cider's quality. It brings humidity, regular rainfalls and moderate temperatures, beneficial to the apple trees. Some varieties may suffer when temperatures are too low in winter but most of all temperatures affect the ripening which influences directly the sugar content in the fruit. In the Baltics, the fresh climate combined with the presence of the sea give very crisp, aromatic ciders.
3. A look towards the future
In Normandy the big majority of ciders produced are the good old traditional farm ciders usually semi-dry or semi-sweet, accompanying the traditional galette de sarrasin (salty pancake with ham and cheese, or can be with other ingredients) or the sweetest ones with crêpes (thin pancakes). Nevertheless, just like Eric Bordelet 30 years ago, more and more producers turn towards perspectives of valorisation and gastronomy.
Antoine Marois, another acclaimed cider maker coming from the wine world, has settled 6 years ago in Cambremer, in his native Pays d'Auge. Pays d'Auge is the oldest of the few cider appellations of origin in Normandy (Fr. Appellation d'Origine Protégée: Protected Designation of Origin). Only a few appellations actually exist in the cider world to preserve the authentic know-how and heritage of the particular regions of production, and cider has definately far less rules and constraints than wine in this field. Some sub-regions such as Cotentin and more recently Le Perche or Caux in Normandie have been struggling to obtain their appellations for years, even decades. The advantage of this is to be recognized as a "quality cider", defined by the specific appellation rules and particular style. Not being part of an appellation means the risk of being confused with all other beverages named "cider", even the industrial ones. But nowadays, with the fast growing emerging cider countries accross the globe, even in France many producers tend to think that the cider world in the future can be much more dynamic and creative, and therefore free of such strict rules.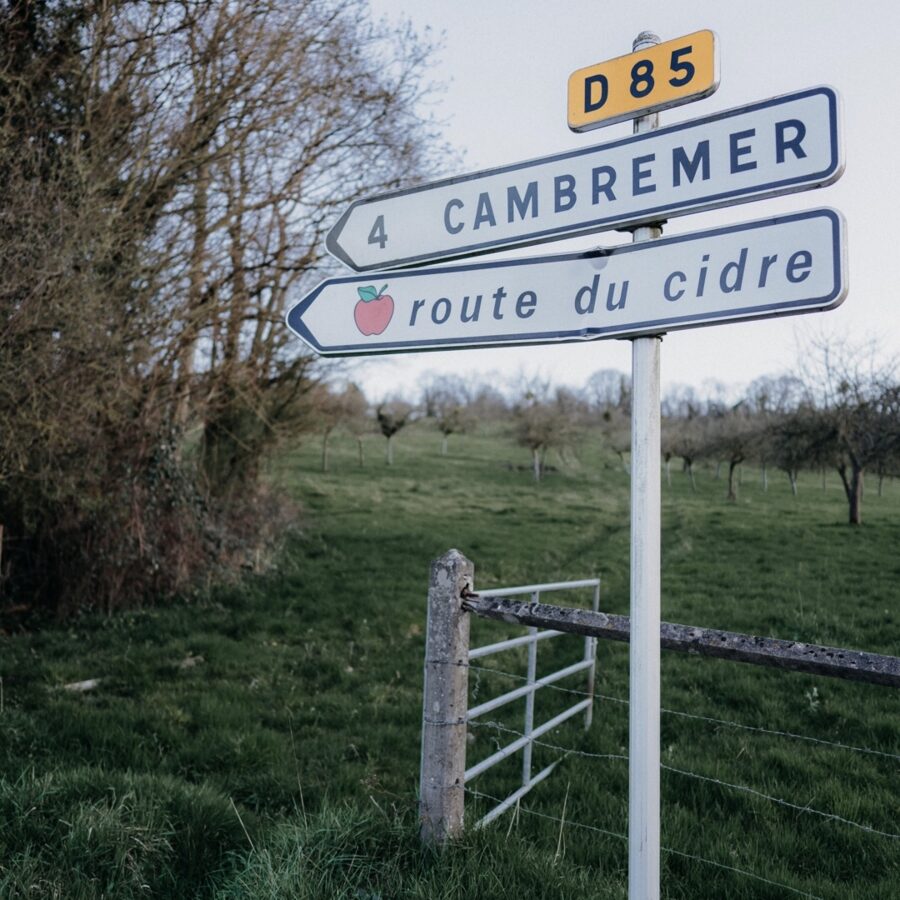 Despite his geographical location in Pays d'Auge appellation and the mention of Le Cru de Cambremer (Cru meaning a higher level of quality, such as Premier Cru or Grand Cru in Burgundy wine regions for instance), Antoine says the appellation actually restricts him in certain cases from producing what he aspires to: drier, more gastronomic ciders. Therefore, only one of his ciders is under the appellation name Pays d'Auge. It doesn't really matter any more since consumers are open to discover something new and the signature of the producer or the brand prevails.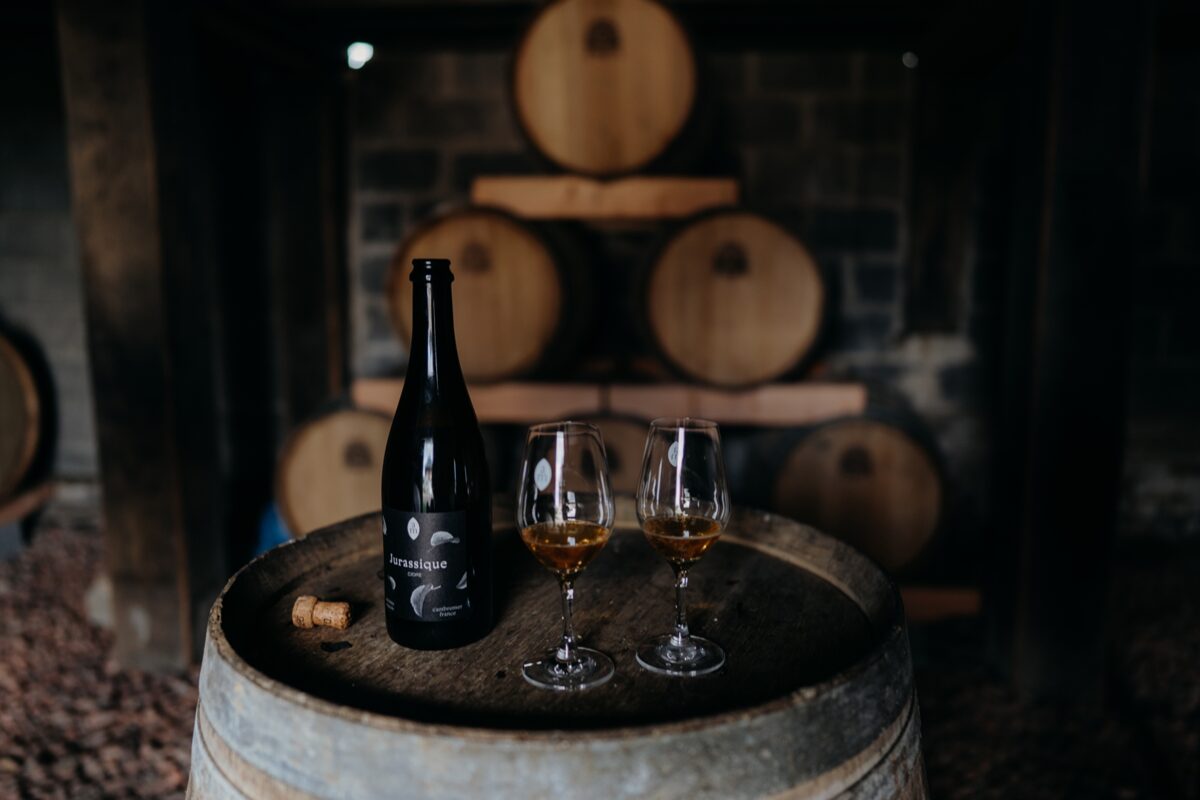 Cuvée Jurassique from Antoine Marois, with barrels of Calvados in the background
Antoine says that it is actually easier to make your way in the cider world today than in the saturated wine industry. His extra bruts are sold out, and the refined ascetic labels carry the names of different plots in the orchard and related to soil types: Jurassique stands for limestone, La Roche for deep marls, Silex for flint with clay. It is a vocabulary that speaks to sommeliers and cavists in specialised wine stores.
A lot of creativity can be seen today on the cider scene, especially in the "new cider countries". Krisjanis Putnins, the owner of Murbudu cider mill in Ergeme, Valka parish in the North-East Latvia never stops innovating and has a very large range of ciders, including flavoured, hopped, barrel-aged. He preaches accessible ciders with a variety of tastes. Cider doesn't have to be normal, says Krisjanis. Eye catching labels and daring tastes such as sherry casks, birthch infusion cider, blends with cherries or the local aronia, are his speciality, and he considers that experimenting with cidermaking is limitless. With background in the wine industry in Australia, where wine appellation rules are much more flexible than in the old world, Krisjanis settled in Latvia, his parents homeland and the country of apples.
"Generally creating new ciders at Murbudu is a very spontaneous process, as it happenned with some of our most appreciated ciders. A grat example is "Zaļais Jaunsidrs" (the new green cider), we were so amazed when tasting this cider vat during fermentation that we decided to bottle it as it was. It was finalised, bottled and for sale in a week's time" says Krisjanis.
A completely new project is currently in progress. Paralelly to the accessible existing range, Murbudu has bottled "barrel aged" ciders already two years ago for a long second fermentation and maturation in bottle to create more complex and richer notes of bread, nuts, creaminess and dried fruit. Various caskshave been used for 2017 and 2018 year ciders of this vintage range: Bourbon, Cognac, Brandy, Calvados, Scotch whisky.
Whatever the various directions and expressions of cider develop in the future, depending on their origins and creative makers, there are signals showing global consumption trends towards lighter style beverages, starting from more white wines and rosés. And definately cooler regions are more suitable for producing such styles.
4. Pride of the local culture and terroir
When we come across Jean-François' cider and wine shop "La mer à boire" in the pittoresque town of Etretat, it is like entering a different world. He opens one bottle after another, each one with a story. Probably this is the first place to go to when you want to discover Normandy cider world, you won't be disappointed! His overwhelming enthusiasm has led him to create the Ciderexpo, a major international fair in Caen, France, to promote excellence in the cider industry.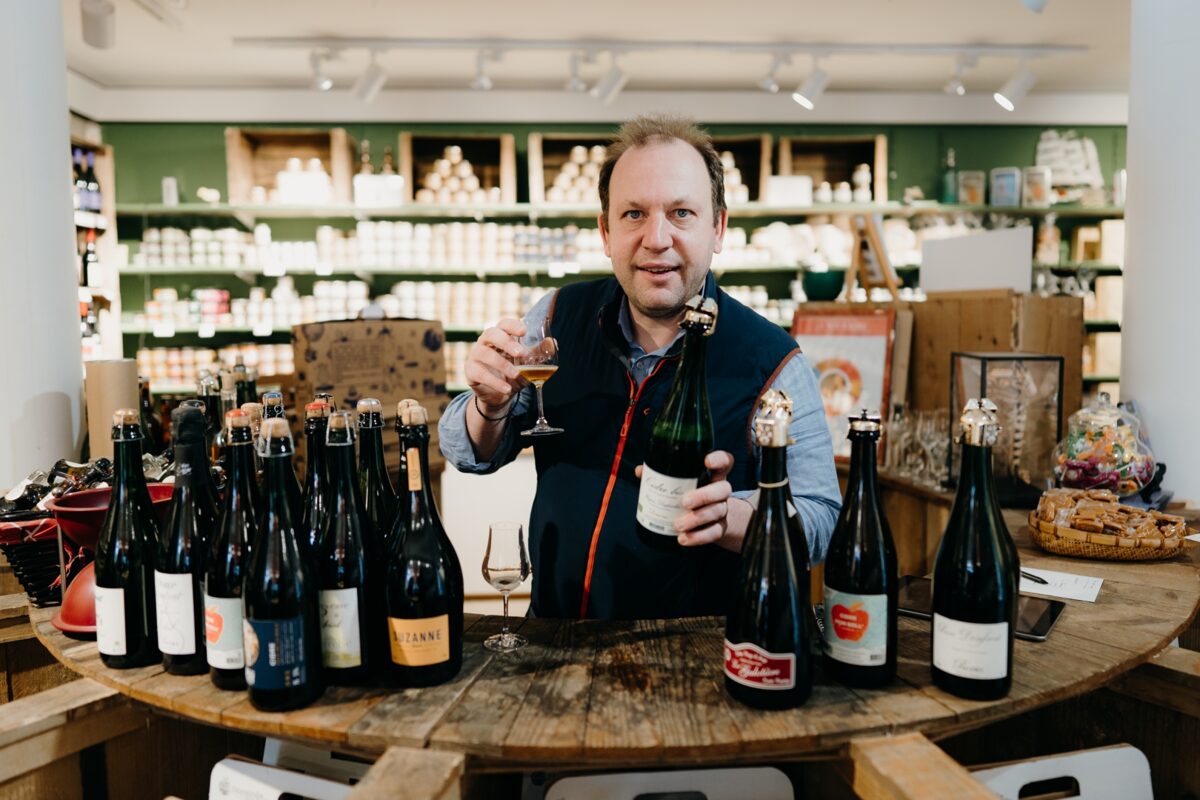 Jean-François Bougeant at "La mer à boire", one of the most remarkable cider stores in France

How come Normandy has become a symbol in the cider world? Apples are the most common fruit in almost all parts of the world, and many other regions have repeatedly outstripped Normandy apple production. By the way, the largest consumer of cider is not France but Great Britain.
The development of local folklore and tourism has played a very important role here. But if the typical Normandy landscape is associated with a blossoming apple orchard with cows, the same landscape and potential is in front of our eyes here in the Baltics. However, apple and cider have had different phases in the main cider producting countries, both golden age and also decadence. After all, it all depends on the territory's commitment to promote its products.
In the Baltics, more and more producers appear with a deep belief in the potential of our terroir. International awards attest to their seriousness and quality of their work. We are one of those newcomers in the cider world, but we have our own way and a new emerging culture with a will to explore, like children, as well as a truly local cider style we can start to be proud of. The domestic market is still very small, and consumers reluctant to discover the authentic cider, being offered plentiful of cheap and sweet so-called ciders on the super-market shelves. But with determination and healthy/eco-responsible approach more consumers start to open-up to this new culture.
A few years ago, the Baltic Country holidays association together with a few producers from Latvia have created the "Cider route" to enable visitors (foreigners and locals) to discover Latvia in a different way – through cider farms and touristic places around them ( www.celotajs.lv/ciderroute ). A similar project already exists in Estonia, too (www.visitestonia.com/en/estonian-cider-route-tour). A strong vector of communication for cider, destinated to those eager to discover rural areas and live new experiences. These initiatives, as well as various festivals and gastronomy events, over the past years, thanks to the limitless creativity and enthusiasm of the producers, are the first steps of involving and educating consumers about the value of local ciders.
I.O. /Photo: Arturs Olins